Hershey Shifts into Referral Drive!
Our 2022-2023 Referral Drive is on and we are asking families, staff, and students to please join us in growing our Montessori community! We believe that it is in the best interest of children and the future, to empower young learners with the necessary tools and skills that Hershey provides to effectively navigate an increasingly complex and rapidly changing world. Help us ready this generation to impact their communities for years to come!
Why a Hershey Montessori education?
The outcomes observed in Montessori students include independence, confidence, adaptability, financial literacy, and life skills such as organization and self-direction, problem-solving, innovating solutions, and effectively communicating. Montessori students are college, career, and life ready, and they possess a desire to continually learn and grow through all circumstances.
What kind of students might be a great fit for Hershey Montessori School? Some characteristics may inlcude:
Independent thinkers

Scientifically minded

Curious collaborators

Lovers of peace and nature

Desire to belong to an authentic community
What can Hershey offer students and families? 
Comprehensive education

Sincere focus on the whole child

Individualized attention

Safe school environment

Warm and caring community

And so much more!
How can you participate? Just a few simple efforts can make a profound impact!
Share your child's/grandchild's education experiences with other parents and students

Invite friends to attend a school open house, visitors' day, or student shadow

Share Hershey's social media posts with

your friends and followers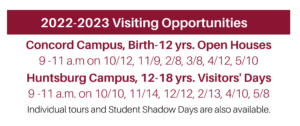 What is in it for you?
Free Hershey gear (items will vary by month) as gratitude for every refer

ral that attends our school open house, visitors' day, or shadows a Hershey student

A $250 tuition credit for current families if their referral enrolls a student
The Referral Drive will run throughout the 2022-23 school year. If you have any questions, please contact Hershey's Admissions Director, Lakisha Wingard, by calling 440-357-0918 or by email at admissions@hershey-montessori.org.
We look forward to a vibrant school year at Hershey and we thank you for being important contributors to our incredible community. We are grateful for you partnering with us in this year's Referral Drive!