SAVE THE DATE!
May 6th, 2023
5:30 pm – 10:30 pm
Join us for a wonderful evening among Hershey friends and supporters. Gala guests will enjoy:
an exclusive live auction 
  an amazing wine and craft beer pull
the delicious offerings of a dessert dash 
an open bar, music, paddle raise, and other festivities  
The event title, "Shine" is from the well-known children's' song, "Let it Shine" (unknown origin). Shine is specially designed to celebrate the light in every child that is waiting to be ignited through the joy of learning.
While the gala is a wonderful time amongst friends, it also serves to provide vital funding that benefits the children of Hershey. It supports this successful educational template for students all over the world. Proceeds from the event go directly toward maintaining and enhancing optimal learning environments, staff development, and operational needs.
Seating is limited. Be sure to buy your tickets early. 
Last Call for "Shine" Gala Registration. Registration ends Friday, April 28th.
Register here.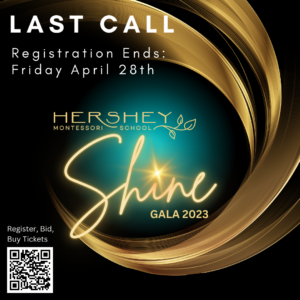 ---
On-Line Auction is Open: 12:00 pm Friday – 8:30 pm Saturday, May 6th.
Browse the many amazing items graciously donated by our Hershey Montessori families, friends, and community. Items range from beautiful hand-crafted pieces, to excursions, experiences, packages, tickets, concerts, getaways, and so much more!  Don't miss out on this wonderful opportunity to support Hershey Montessori School and students while having fun and winning some fabulous prizes!!
Thank you for participating!
Would you like to be involved?
Hershey's Gala Committee is open for all who are interested in volunteering their time and talent for this wonderful whole school event. Anyone who is interested may contact Yvonne Delgado Thomas, HMS Development Director at ythomas@hershey-montessori.org
Thank You to our 2023
Shine Gala Sponsors!
STARLIGHT PRESENTING SPONSOR