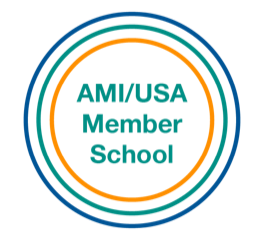 About AMI/USA
Association Montessori Internationale (AMI) is the world standard in Montessori. AMI strives to embody all of Dr. Maria Montessori's methods of education and approach to human development. As the primary operational affiliate in USA, the Association Montessori Internationale of the United States (AMI/USA) is a national non-profit organization that upholds Dr. Maria Montessori's original vision. AMI is a recognized authority for those interested in applying the Montessori approach at multiple levels. It is renowned for enabling teachers to become masters of transformative teaching by implementing the Montessori approach with the highest level of fidelity.
The Association Montessori Internationale (AMI) was founded by Dr. Maria Montessori in 1929 to maintain the integrity of her life's work, and continues with the purpose of preserving that legacy.
​Hershey Montessori School's Young Child Community and Children's House are recognized as meeting and fulfilling the AMI standards.
Hershey Montessori School follows the standards of AMI and only hires AMI trained guides as lead teachers for their elementary programs.
Currently, there is no AMI recognition for the adolescent levels.
Learn more about AMI USA
About ISACS 
Independent Schools Association of the Central States (ISACS) provides accreditation services to ensure that schools meet specific standards. ISACS guides schools through a process of self-reflection that examines the fit between a school's stated mission and actual program implementation. A thorough process for school improvement is also established through this process. It demonstrates that we, as an educational organization, take learning and growth seriously.
ISACS provides a wide variety of professional development programs for its membership as well. ISACS offers professional conferences — including the Annual Conference, Heads Conference, Leadership Academy in Partnership with the Kellogg School of Management Center for Nonprofit Management, and New Teacher Institute that are often described as "defining" experiences. As a provisional member, Hershey is also afforded topic-specific workshops and webinars.
In addition to these benefits, staff avail of affinity groups in specific areas of school life, education, self assessment, and ISACS staff members provide facilitated conversations with member schools on governance and accreditation.
Learn more about ISACS
Other organizations that Hershey Montessori School is an affiliate or member of include:
Cleveland Council of Independent Schools (CCIS)
Employer Resource Council (ERC)
National Business Officers Association (NBOA)
Northern Ohio Heads of Montessori Schools (NOHMS) – serving second and third planes of development.
Ohio Association of Independent Schools (OAIS)
Contact Us 
Are you interested in learning more about the measures and process we take to ensure Hershey Montessori School is a sound educational institution that is providing a comprehensive education to its students?
Contact us