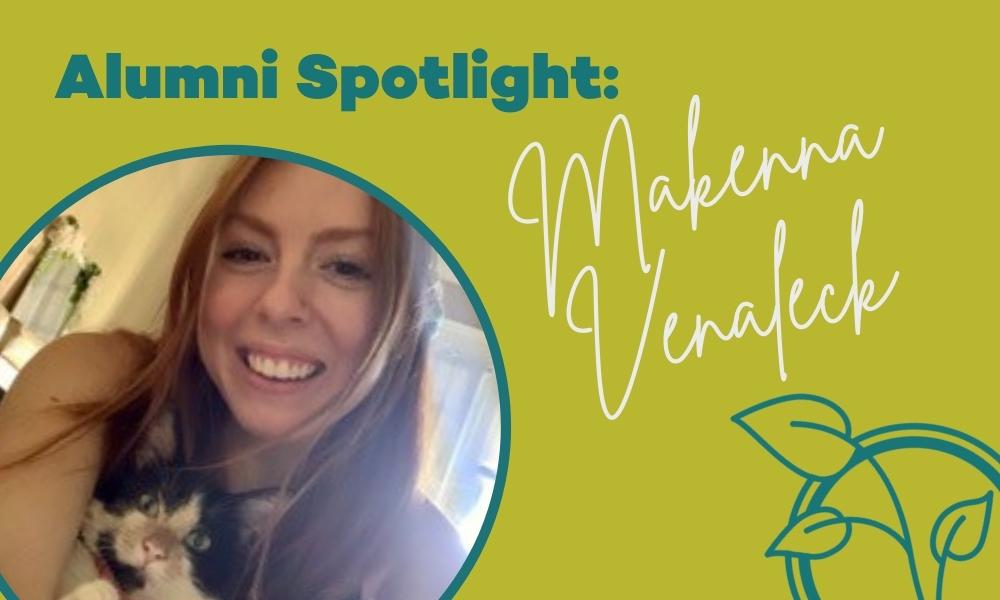 This Alumni Spotlight is devoted to Makenna Venaleck. Makenna is in her fourth year as a full-time student at Ohio University in Athens, Ohio, where she lives with her three roommates and Wybie, their "wonderful" cat. She will graduate in May with a B.S. in Chemical Engineering and a minor in Applied Mathematics. Makenna is originally from Concord, and upon graduation, she will be relocating back to the Cleveland area to begin working as a Systems Engineer for RoviSys, an automation engineering company in Aurora.
Enjoy our interview with Makenna, below.
Hi Makenna, thank you for your time today. Let's start with first things first. What brought you to Hershey Montessori School and how long were you here? 
I came to Hershey because my mom worked/works there and used to bring me to school with her as a baby. I officially started Hershey in the YCC (Young Child Community). I spent all my school years at Hershey — From YCC to 12th grade — from 1 year to 18 years old!
How amazing. What did you like most about your Montessori education?
I liked the holistic approach to every topic of education. Being able to see the connection between the abstract concepts being taught and the physical land that was present was very valuable and kept me invested in my own education solely for the purpose of learning. I was able to dive deeper into every topic purely because it was interesting to me and because I felt the joy of learning.
Yes, it's an incredible approach. Do you have a favorite Hershey memory?
My favorite Hershey memories are from community work and cooking in the kitchen. I loved the sense of community and feelings of accomplishment involved with community work — whether it was cleaning out the cow stalls or painting murals for the play. I also loved cooking in the kitchen because it was fun to get to know the people I was in the kitchen with, and it felt great to help provide something for the whole community.
What is one thing about Hershey you would like others to know?
The real power of Hershey is the community that is fostered and the compassion that it builds. I was able to care not only about the educational concepts I was learning but for the people that I was learning about as well. The designated seminar periods where everyone was encouraged to share their thoughts on a subject broadened my view on what a respectful discussion should consist of and how to listen to differing opinions. The genuine care that everyone (both the students and the guides) had for each other taught me to hold that compassion and maintain curiosity for everyone I encounter. All of these things, other than just the education, are what have really helped me as I've carried on in life.
Where is your favorite place to go?
When I'm home, I love going to Lake Erie. I love the sound of the waves and the serenity of the water.
We're fortunate to be so close to the lake! So, what is your favorite thing to do?
I love to travel and experience new cultures, food, and activities. But on a day-to-day basis, I love getting outside and going on hikes with my family and friends!
I see the connections to nature Hershey provides has not been lost on you! Now, we know you have a mathematical mind by your chosen career path, but do you have hobbies or other specific interests?
I enjoy taking time off to do my creative hobbies like playing piano and drawing.
It's great that you still make time for those creative expressions. Can you share a little-known fact about you?
My favorite bird is an indigo bunting.
How neat! Do you have a favorite book?
I love to read all book genres from Harry Potter to Pride and Prejudice. It's too hard to pick!
Do you have a favorite quote?
"Life is available only in the present moment." (Thic Nhat Hanh)
Excellent quote and reminder! What is your favorite movie?
I love a good documentary/docuseries about nature/culture/true crime, but also could re-watch any Marvel movie any day.
Who has made the biggest impact in your life and what does that impact look like?
My mom impacts me every day through her constant example of intentional mindfulness. It has taught me patience, compassion, and given me tools to see joy in every day.
A previous Hershey legend, Jim Ewert-Krocker, has also impacted me by providing an example of diligence and hard work. His example motivates me to place my full effort into the work that I do so I can produce results that positively affect the people around me. Using this diligence, I can be proud of myself daily because I know that I did my best at whatever task, big or small.
That is beautiful, Makenna. How would your friends and family describe you, and how would you describe yourself?
This is a tough one, but probably that I'm driven, creative, and loyal.
I would say that I simply care a lot about what I contribute to the world, how I do that, and who that affects. I'm motivated by personal success but mostly by achieving the big picture goals. I also place a lot of value on the creation of interpersonal connections along the way.
Love your intentionality. What has been your happiest moment?
Any moment spent with my friends and family outside in the sun is where I am happiest.
That is perfection, isn't it?! Do you have a life lesson you would like to share with others?
It's not only okay but is essential to take breaks. We define what productivity and success mean to ourselves and sometimes that means actually taking a moment for ourselves. Stopping to take a breath, to cook a meal, or to get outside are all investments in yourself and are just as important to personal success as completing a physical task on your to-do list.
Perfectly stated. Is there anything else you'd like to share or let others know?
I really would not be the person I am today without Hershey and I am constantly grateful for the experience I had there. My sense of self and desire to cultivate community can be attributed to my time there. The small daily human connections I'm encouraged to make due to my experience in the close Hershey community directly impact the prioritization and achievement of my daily and long-term goals.
That is such a beautiful way to wrap up our interview. We are grateful for your time and continued contributions to school and community, Makenna. We are glad to know you and admire your continued growth and success in all areas of your life. Thank you for sharing with us today. We wish you all the best!