Nature Notes for Parents and Children
By Cheryl McGovern, Outdoor Education Coordinator
Fall is in the Air
While our weather turns from warm to cold to warm again, the natural world is aware of winter's approach. As the daylight lessens, plants and animals prepare for the changing seasons.
Wildlife have been plentiful on campus. All have watched the milkweed, first full of hungry monarch caterpillars, now devoid of these munchers, the air has been full of adult monarchs beginning their migration journey. Now the milkweed seeds on their fluffy strands float around ensuring the growth of new milkweed as the cycle continues.
The troupe of wild turkey who roam our play area and woods, still have a few young ones mixed in. A hen turkey must have produced a second, later nest of eggs which can happen if the first attempt is unsuccessful. Seeing the poults size change from the end of August until now shows just how quickly they grow.
White-tail deer fawn have also changed before our eyes as their camouflage of white spots have slowly faded into their growing bodies. Students are noticing insects as they are at their most mature size. Praying mantids have been seen on the building and plants as they females search for a good spot to create their egg case, called an "ootheca."
An abundance of black walnut will help many animals in their preparations. Trees, most notable in nut trees, go through "mast years" where they produce a greater amount of fruit than in other years. It's a natural phenomenon that is not completely understood since it often includes trees of a particular species in a large region all producing greatly at the same time. And, of course, we all await the show of fall colors produced as leaves shut down their food production factory for a winter's rest. With chlorophyll no longer needed for photosynthesis, the other pigments can be displayed.
Take time in your own yard, neighborhood, or nearby park to take in all the sights and sounds of the season.
Look Up!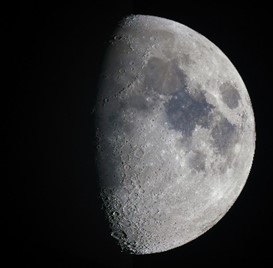 International Observe the Moon Night 2021 is coming up. On Saturday, October 16th, your family can join citizens and scientists around the world in observing the moon. It's an opportunity to unite people from all over our planet in observing our nearest neighbor in space. There are virtual events, live streams, and live events too. However, observing from your own yard is perfect too. If the sky is clear the viewing should be good with many lunar maria, or "seas" of solidified basaltic lava, visible to the unaided eye. The moon has a slight apparent wobble in its orbit, and on the night of observation a small amount that we normally cannot see will be visible, just a peek at the edge of the far side of the moon!
To discover more about the moon, including printable maps, activities, and highlights, visit https://moon.nasa.gov/observe-the-moon-night/