Farm News – Holy Pumpkins!
By Joyce Cole, Hershey Montessori School Farm Manager
Happy Summer! With this past week's deluge of rain, I found myself with a little extra time to collect thoughts and pictures and announcements from the farm. I have been eager to share with you.
I hear stories of how the pandemic has afforded a new hobby, or a lifestyle change… Here on the farm, the pandemic has afforded preparation. Everything from the Animal Barn to the Wood Shop to the Bioshelter is experiencing a thorough going-over. The farm and facilities staff have poured their hearts into maintaining, reorganizing and reinvigorating our farm environments for the betterment of our adolescents. Here are just a few happenings on the farm.
The Bioshelter
This school year will mark the beginning of a regrowth and revision of our bioshelter. Now over 15 years old, our bioshelter was designed to be an energy-efficient, thriving greenhouse and classroom. It is an amazing resource for our students to learn about the inter-connectedness of life within an ecosystem. After thriving in this way over many years, the time has come to assess the whole system to determine what's working, what needs improved, and what can be remembered about our original intentions for the bioshelter. We'll start with rebuilding and realigning its structures – from the panels to the gutters to the raised beds within the greenhouse – bringing the bioshelter ecosystem back to thriving from its very foundation.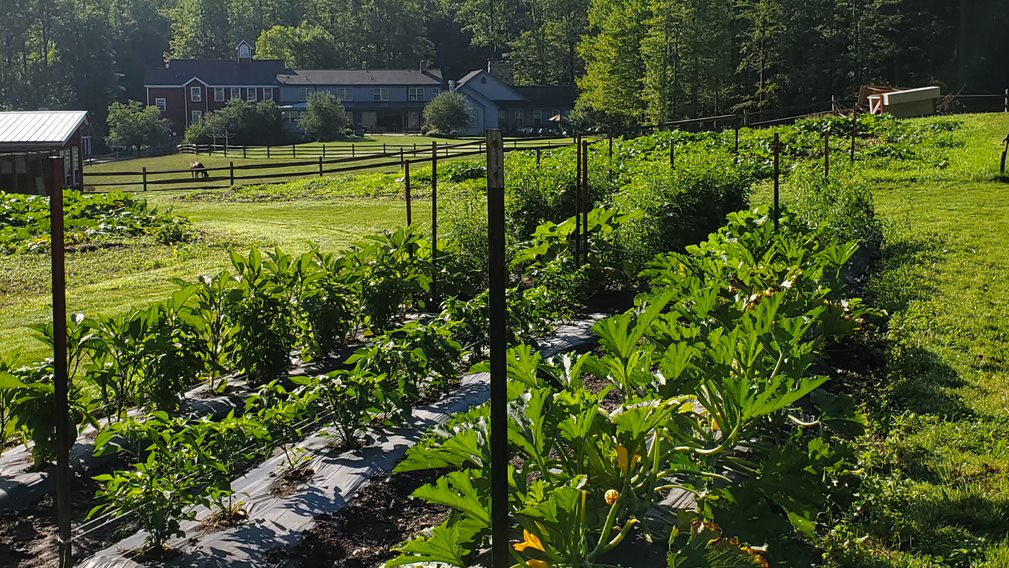 The Pastures and Barns
Some would say that our barns are pretty empty these days. In my past year as Farm Manager, we lost Harley the pony, and Bart, Tomas, and Tiger Bite – three of our farm cats. We let Ernest the buck go because it was time to mix in new genetics. We raised and harvested chickens to feed our community and refresh our laying hen population. Now we have one horse and six goats sharing a barn and pasture, and two large pigs in the Goat Barn! Well, as with the bioshelter, sometimes we need to take a step back and think about how to move forward. This summer we replanted and electrified the inner horse pasture. When students return, they will have the opportunity to help with wiring the fences for ease of pasture management and animal movement, extending the horse pasture, and repairing the cow stall. We are also implementing new pasture management plans that include taking regular soil samples, fertilizing, and overseeding when needed.
San Marzano tomatoes and Genovese basil
The Farm Garden and Market
Finally, I want to take a moment to tell you about our summer gardens. You may remember the huge success of our online plant sale this year. Students started and grew a variety of vegetable plants to outfit our entire community's gardens. With the long, cool and rainy spring, getting those plants into the gardens on the farm was painfully slow for me and the plants. Well, they finally got planted and though they took a bit of time to recover from being pot-bound, harassed by white flies, cold, and thoroughly drenched, the gardens are now in their full glory! We have so many tomatoes coming in, and just at the stage that is optimal for our students. These are their plants, and they will return to find them ready to harvest.
Musquee de Provence Pumpkin, friend and foe – honeybee + cucumber beetle, eggplant, okra flower, and watermelon
You can shop from the Hershey Microeconomy at Adam McKinney's family farm stand at 12831 Auburn Road in Chardon, Ohio. The Farm Stand will be open from 4 p.m. till dusk on Friday's, and 9 a.m. till dusk on Saturday's. There will be lettuce and greens, eggplant, zucchini, and basil available for sale – with complimentary recipes for pesto and fritters, care of Hershey alumna, Makenna Venaleck. Watch for peppers and a few tomatoes coming soon. Please spread the word! If you have a chance to visit the farm, be sure to check out the two large pumpkin patches already bearing loads of fruit. We timed them to be done by Harvest Festival, so picture a pumpkin patch with happy children picking out their favorite jack-o-lantern.
Our market stand and Makenna's recipe cards 
There are two more important points I'd like to mention. One, we couldn't do what we do without our dedicated residential staff who keep a constant eye on things and happily pitch in with the work of the farm. Sharyn, Joy, Paul, and Stella have all been rotating evening and weekend feed shifts, but they also muck stalls, help in the gardens, and landscape. I mentioned Makenna working on the farm this summer, but I am also extremely grateful for Daniel Jolly, Stella's husband. Both of them have done everything from muckimg stalls to harvesting chickens to weeding garden beds. 
I am excited to add students to the mix of daily camaraderie, discussion, and steady practical farm work. Our adolescents bring fresh perspective, enthusiasm, and ideas. As a relatively new employee who is still catching my stride, I have been grateful for this time to learn and ponder. I am ready and excited – we all are – to put our students back at the fulcrum of our farm.
About the Author: Joyce Cole serves as Farm Manager at Hershey's Adolescent Campus in Huntsburg, Ohio. She holds a Bachelor of Arts degree in Biology from Hiram College as well as a post-baccalaureate certification in secondary education from Cleveland State University. For the past 15 years, Joyce has lived with her husband, Tom, and their two children, Ella and Tommy, in rural dwellings outside of Cincinnati and Cleveland, Ohio. Inspired by a deep curiosity to live sustainably on the land and a long-standing dream to farm, she studied herbalism, worked on farms, and fed her family locally-grown and foraged foods. Joyce is honored to share her passion for farming with Hershey Montessori students and school community.