Event: The Wonder of the Elementary Child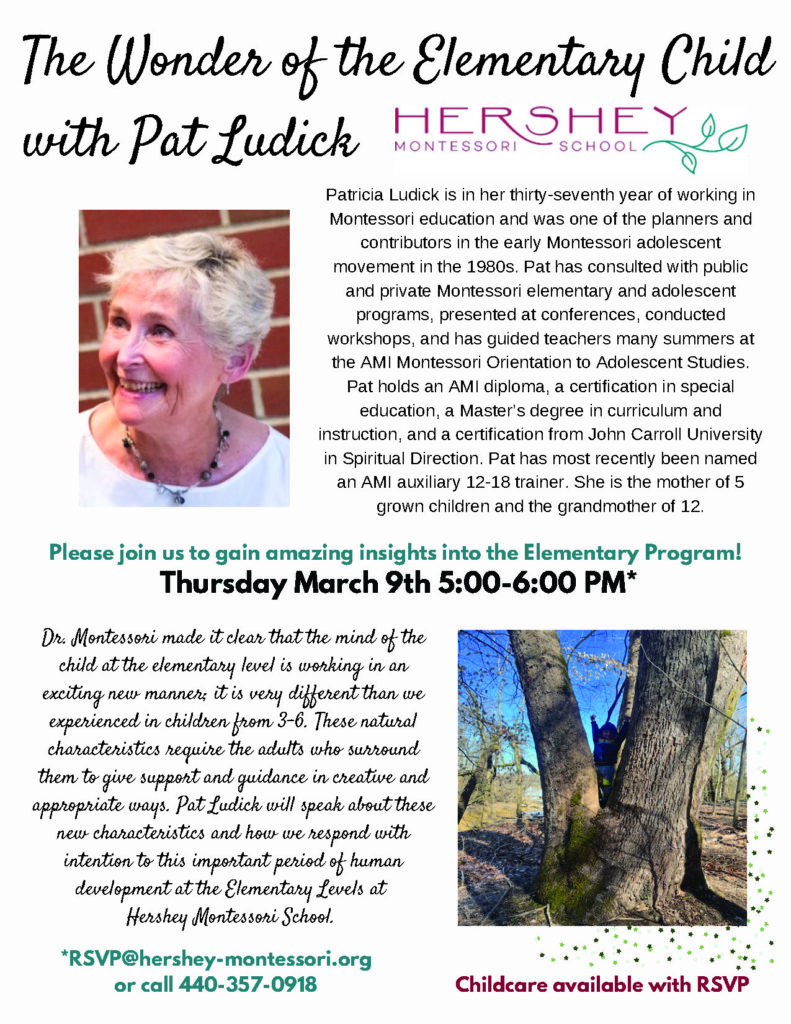 Dr. Montessori made it clear that the mind of the child at the elementary level is working in an exciting new manner. It is very different than we experienced in children from 3-6 years of age. These natural characteristics require the adults who surround them to give support and guidance creatively and appropriately. Pat Ludick will speak about these new characteristics and how we respond, with intention, to this important period of human development at the Elementary Levels at Hershey Montessori School.
Patricia Ludick is in her thirty-seventh year of working in Montessori education and was one of the planners and contributors in the early Montessori adolescent movement in the 1980s. Pat has consulted with public and private Montessori elementary and adolescent programs, presented at conferences, conducted workshops, and has guided teachers many summers at the AMI Montessori Orientation to Adolescent Studies. Pat holds an AMI diploma, a certification in special education, a Master's degree in curriculum and instruction, and a certification from John Carroll University in Spiritual Direction. Pat has most recently been named an AMI auxiliary 12-18 trainer. She is the mother of 5 grown children and the grandmother of 12.
This event is open to all who RSVP. Childcare is available to Hershey families who RSVP.
Please RSVP to rsvp@hershey-montessori.org or call 440-357-0918.
Download the flyer here.