Don't Miss Our Hershey Market Fair!
Save the date – October 10th, 11 am – 3 pm! We are excited to offer this innovative alternative to our Fall Harvest Festival. Gather your family, jump in your car, and head to our Huntsburg campus for our drive in Hershey Market Fair. Enjoy several different stands positioned along the campus route by simply driving up, viewing the student offerings, choosing to purchase, and moving along to the next stand. We are so proud of the work the students have put into this creative idea. We hope you are able to come out, connect, and support their work. What better way to safely create more cherished Hershey memories during Northeast Ohio's most beautiful season?!
Here's a glimpse of the route design for when you arrive: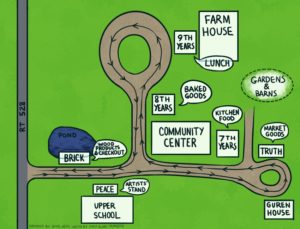 We hope to see you there!