We Invite You To Refer Your Friends and Family!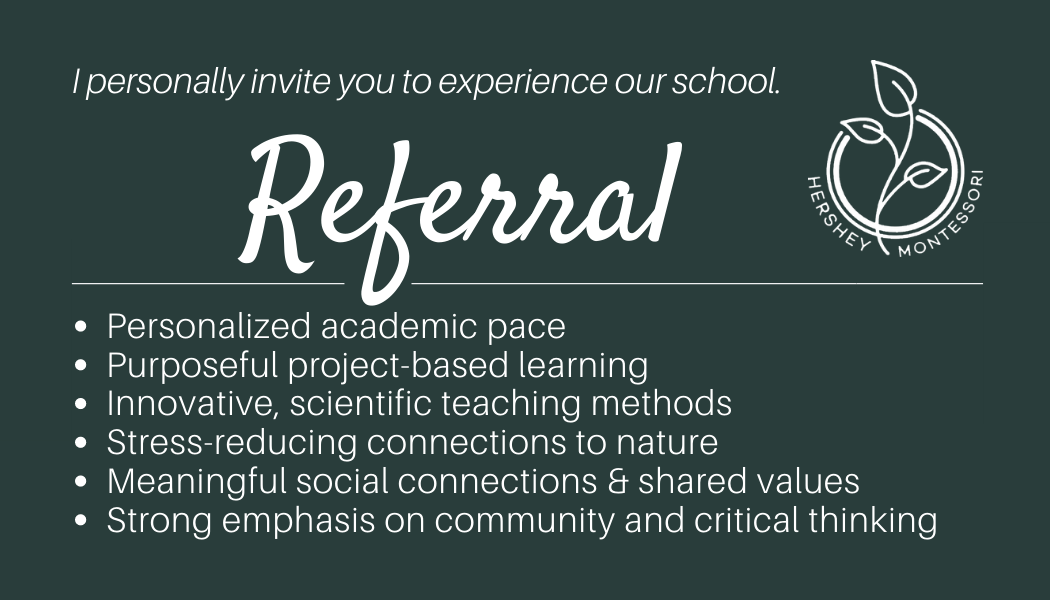 Our first ever referral drive has kicked off and we are asking you to tell your friends about us!
We want to share more Montessori with more families who value quality education the same as you do. We believe you can help us find them.
Hershey meets the usual checklist that many families look for in a school, such as individualized attention, great teachers, an excellent education, and a safe school environment. However, Hershey also offers a personalized academic pace based on the natural development of the whole child, scientific teaching methods, stress reducing connections to nature, meaningful social connections, and a strong emphasis on critical thinking and community.
It's not surprising that parents often cite the intentional community we create as one of the most compelling reasons to enroll. That is why we are seeking referrals from those who know and love Hershey. Families who share the same goals for their children create a community that benefits everyone – children, parents, and teachers alike.
Over the last 40 years our parents and students have been our best source for growing our community. Sharing good news and stories about Hershey Montessori School to trusted family, friends and neighbors has helped to create and build upon the close-knit Hershey community that we all cherish.
In gratitude for every referred visitor who tours our school, we are placing the name of the referrer in a quarterly drawing for a basket filled with beautifully handcrafted items made by our microeconomy students at our Huntsburg campus, along with a Hershey Montessori apparel item.
Growing together means that we will get to experience more of what is so beautiful to Hershey – our connections.
Each year, we are moved by the outcomes we see in our students as they grow and develop as creative and resilient human beings. Now more than ever, we are compelled to provide more Montessori to more children. Help us to reach more children and adolescents with the Montessori methods and ideals that we all know and love: grace, peace, respect, unity, and the like.
We hope you will share in our passion for this growth.

Tours and visits can be scheduled online or by contacting Lakisha Wingard, Director of Admissions, at 440-357-0918, or Robyn Dill, Administration & Admissions Manager, at 440-636-6290, or by emailing admissions@hershey-montessori.org.
Let's grow our community together!
---