120 Trees To Be Planted in Hershey's Name
Hershey Montessori School is having 120 trees planted in the school's name. Hershey received recognition as a TreeRing Green Yearbook School upon partnering with TreeRing to build, publish, and sell 120 Hershey Montessori School yearbooks to its students and families.
TreeRing, a partner to Trees for the Future, prints on partially recycled paper and only produces the exact number of books parents buy, eliminating unnecessary waste and resources.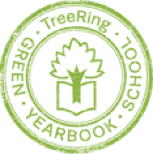 Trees for the Future is an organization that works closely with farmers to continually discover ways to make positive environmental and economic impact. Trees for the Future has been planting trees across the world for more than 30 years to not only end deforestation, but help with poverty and hunger, providing families with food and income through their Forest Garden Approach.
Hershey Montessori School and TreeRing are pleased to be helping students preserve memories while also doing our part to help save the planet. Our school community can feel good about providing students and parents with a yearbook that captures their personal memories in a beautifully produced book. It can also have confidence in the sustainable and environmentally conscious approach taken in producing them. It's the least we can all do for the next generation.