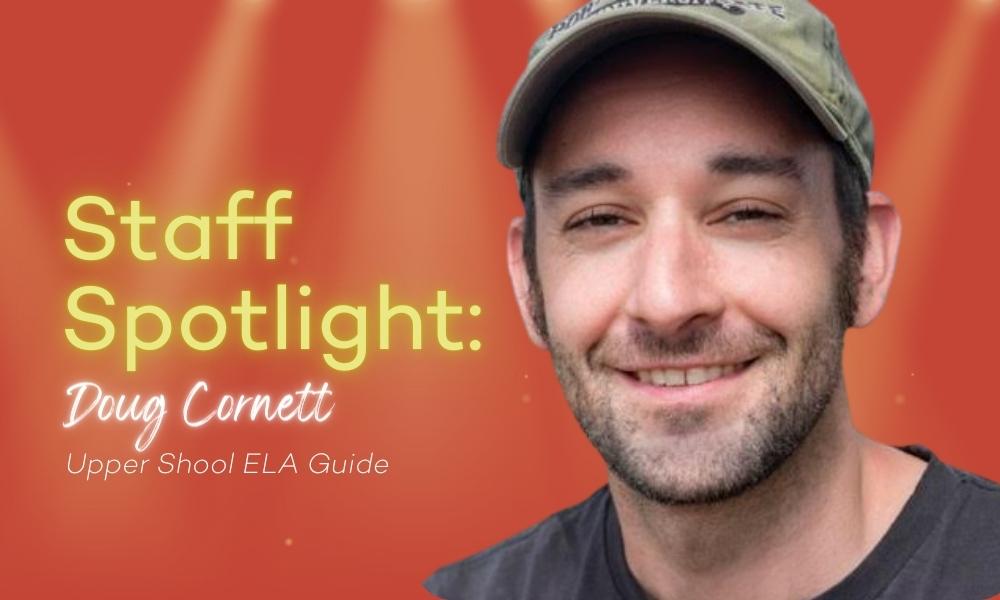 This month's staff spotlight honors Doug Cornett. Doug is Hershey Montessori's Upper School ELA (English Language Arts) Guide. He is in his first year at Hershey and has integrated superbly into our community. Doug is originally from Hudson, Ohio. After graduating high school, he moved to New York for awhile before going to Portland, Oregon, where he earned his MFA (Master of Fine Arts) in Creative Writing. Doug taught for ten years at Northwest Academy, an arts-based independent school in downtown Portland. He and his lovely wife, Anna, and their two children (both students at our Concord campus), returned to Northeast Ohio this past year to be closer to family.
Here's our interview with Doug:
Thank you for your time, Doug. First, can you tell us what brought you to Hershey?
When my wife and I decided to move back to Ohio, I began searching for jobs. I saw Hershey's job posting for an ELA guide, and as soon as I visited the website and saw pictures of the farm, I was intrigued. After having a conversation with Judy, Wes, and Paula, I knew it was a place I wanted to be.
It's hard to not be drawn here, that is for certain. Share with us more about your role at Hershey and what that looks like.
I teach a blended 9-10 ELA class and a blended 11-12. At each level, students engage with a diverse range of texts from the ancient world to modern day. In any given week, we'll have seminar discussions, play writing games, workshop essays, and create artistic responses. The students will often have a choice of which text they want to explore, so there's a lot of variety in the class.
That sounds beautiful. What do you do here that you find is unique to you?
I led the Sci-Fi/Horror club this winter. I'm a big fan of the genres so it was fun to read and watch all kinds of texts with the small but dedicated student group. In our final meeting, we watched The Invasion of the Body Snatchers from 1979 — one of my favorite flicks!
That sounds fun! So what is your favorite part of your work here?
I like the sheer variety of my days. One minute, I'm having a discussion about literature, the next I'm cleaning out the horse stalls, and the next I'm collecting sap from a sugar maple tree. It's unlike any other place I've worked. Also, I'm grateful for the relationships I have with the staff and the students.
So true. The relationships are a gift here. What are some of your favorite things to do?
I love writing stories, playing guitar, drumming (learning slowly but surely), seeing live jazz, hiking, and having dance parties with my family.
Love that! We all could enjoy even a spontaneous dance party now and then. Can you share a little known fact about you?
Writing is a huge part of my life! My debut book, a middle grade mystery called Finally, Something Mysterious, was published by Penguin Random House in 2020. The next in the series, Finally, Something Dangerous, will publish in November 2022. I'm always working on a new project.
Wow, that's exciting. Congratulations to you! Do you have a favorite place to go?
Some of my favorite places: the Oregon Coast, Powell's Books, The Rocky River Reservation, and any place that serves breakfast all day. Recently, I have really enjoyed walking through the woods on the Huntsburg campus.
We'll link those places so others can check them out, too. Ok, so as an ELA Guide and an author, we want to know your favorite book!
This is a cruel question to ask an English teacher. Here are a few that come to mind: Ray Bradbury's The Martian Chronicles; Ellen Raskin's The Westing Game; anything by Jorge Luis Borges and George Saunders; Carson McCullers' The Heart is a Lonely Hunter. There are so much more, and it kills me not to name them all.
I'm sure! You're relatively new at Hershey, but to date, do you have a favorite Hershey moment?
So many great memories here already! One that sticks out is from the first day of school, when my advisory group went for a hike in the woods surrounding the school. It was a great way to get to know the land and the students, and we didn't even get that lost!
Impressive! And, yes, the woods are so beautiful here. Tell us what drew you to Montessori?
First, the Montessori approach within the close-knit community was really appealing to me. The farm location was a 180-degree turn from the urban environment of my last school. Since I've been here, what excites me the most are my relationships with the students and the staff. There are such great people at Hershey!
Agreed! What is your favorite quote?
My favorite quote comes from my favorite short story — "Sonny's Blues" by James Baldwin. I think it speaks to the power of storytelling and the affirming nature of the creative act: "For, while the tale of how we suffer, and how we are delighted, and how we may triumph is never new, it always must be heard. There isn't any other tale to tell; it's the only light we've got in all this darkness."
That is a great quote, Doug. Do you have a favorite movie?
The Big Lebowski and There Will Be Blood.
Do you have a happiest moment?
My happiest moments usually occur when I'm hunched inside a blanket fort with my kids, munching quietly on a snack and getting crumbs on the carpet.
Love that! How would your friends and family describe you and how would you describe yourself?
My friends would say I'm easy-going, creative, rarely punctual.
I would describe myself as open-minded. I'm absolutely sure that there are ideas I haven't encountered and perspectives I haven't considered yet, and I'm always looking for those.
What is one of your biggest life lessons you can share?
Confidence and self-assurance are essential, but maybe even more important is the realization that there is always more to learn.
So true … finally, who has made the biggest impact in your life and what does that impact look like?
So many people have inspired and supported me. I've been lucky to have had some truly incredible teachers in my life at every stage. Any time I think back on some of them, I'm freshly inspired for my classes at Hershey.
Thank you for sharing with us, Doug. It has been a pleasure learning more about you. Congratulations on your book series. We will watch for the next release this fall. We look forward to many more years with you here at Hershey!