The inclusion of nature in the learning environment is critical in Montessori education. At Hershey Montessori, students interact with nature each day on our campuses filled with woods, trails, green spaces and gardens.
Children at every level at the Concord Campus enjoy a daily connection with nature, and guides use the natural wonders around them to encourage curious minds. Each classroom has its own, adjacent garden space that serves as an extension of the indoor classroom, and specially designed low windows that allow children to easily admire the outdoors while inside.
Outdoor curriculum is a component of the classroom in every season and includes:
Daily walks
Planting and harvesting the gardens
Replenishing feeders for birds and squirrels
Sweeping leaves and shoveling snow
Caring for small animals in the barn
Learning to identify plant species
Dissecting flowers
The appreciation for nature developed during these early years prepares students for the more complex outdoor concepts of the Huntsburg Campus.
Dr. Montessori theorized that land-based learning was especially important for adolescents who are going through a time of great change and preparing to join the larger, adult community. She taught that during this time students must learn to live and work together, and that the best way to teach adolescents these skills is through living and working on a farm, which acts as a microcosm of society.
The Huntsburg Campus at Hershey Montessori provides the ideal environment for 12-to-18 year old students to learn in a farm environment. Through their experience they learn intellectual and social skills that will benefit them for life.
Students on the Huntsburg Campus focus on the science behind all the systems used by human civilization, such as:
Building structures to live and work in
Raising animals
Water treatment systems
Growing and cooking their own food
Managing natural resources
Overseeing a budget and operating businesses
Repairing and maintaining facilities
Providing services to neighbors
Students come from all over the world to engage in Hershey Montessori's unique farm school.
We encourage you to schedule a visit and see for yourself how students explore and excel through land-based learning.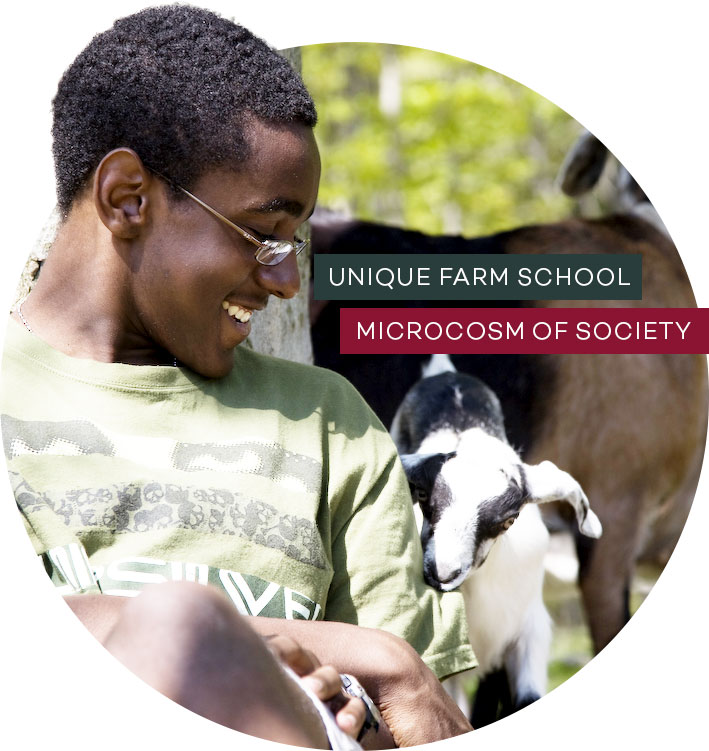 Visit Hershey Montessori
The student experience at The Huntsburg campus is truly unique and must be observed to gain full understanding. We invite you to visit our campus to learn more.