Voice of Hershey Blog
Thoughts, Insights, and Experiences from the Hearts of Hershey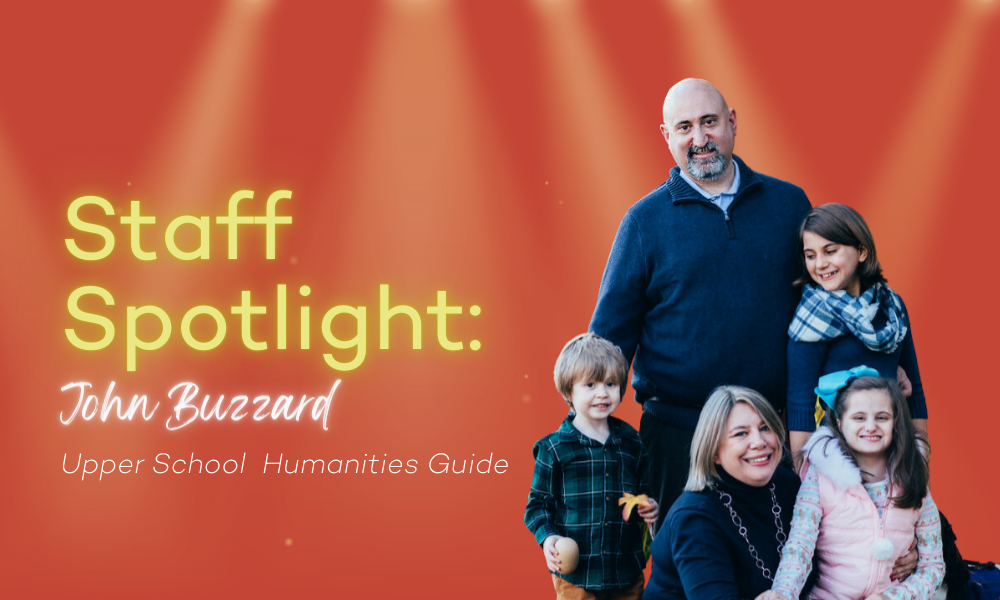 This month's Staff Spotlight features Hershey's Upper School Humanities Guide, John Buzzard. John grew up in Alabama and has lived in many places, but finally called Ohio home about 7 years ago. He is currently moving from Kamm's Corner on the west side of Cleveland to Lyndhurst. He is in his fourth year at Hershey Montessori School where he loves having the opportunity to work on skills he wouldn't be able to do anywhere else, like making maple syrup or carving wooden toy cars. His favorite part of working at Hershey is having the opportunity to work with thoughtful and courteous students every day. John is married and loves spending time with his wife and three children: Vivian, 12; Caroline, 11; Gideon, 5, and their dog, Mabel.
Below is our full interview with John:
What did you do before coming to Hershey?
I have worked at a number of small schools, almost always with a project-based, student-centered structure. I have been a Curriculum Director, a Division Head, and a Head of School, but teaching is and will always be the best job.
What brought you to Hershey?
An admiration for the program here, including Upper School Montessori education, which is a newly developing model. I love being a part of things that are new and growing, and despite being new to Montessori, I have grown in understanding and admiration for this pedagogy.
What drew you to Montessori?
The focus on students and letting them lead the way.
Can you tell us what it is like in your classroom or the topics you cover?
In my 9th and 10th year Humanities class, I present themes related to current issues such as elections, immigration, economics, and others. Currently, we are studying the role of the police in our society. Like with any issue we cover, we look at it historically, legally, and in comparison to other countries. Students then do independent research on their own topic related to that theme and ultimately present their learning and arguments in some fashion – a presentation, an event, a paper, etc. In the 11th and 12th year, students are given additional freedom to determine the topics we cover and the kind of presentations they do. This allows the students to stay engaged and they gain a global view to help form their perspective.
What is unique to you as far as your approach to teaching or interacting with your students?
I believe that part of my job as a guide is to make great, genuine experiences possible – above and beyond the usual. So, let's meet someone really important or especially interesting. Let's go on a trip to someplace where events actually happened. Let's create a new experience for ourselves and for others. To me, things like this are memorable and that means what we learn will stay with us far longer.
What is you favorite Hershey memory?
I have always loved the pancake breakfast. Seeing the entire Huntsburg community come together to work this event, and with barely any 'training' or experience, suddenly we are running a restaurant like we had been doing it for years. It is so fascinating and it gives me such admiration for our students and staff.
Where is your favorite place to go?
Camping, wherever that may be.
What is your favorite thing to do?
I love cooking, I love music, and I love games so … singing while eating dinner around a game?
What is a little-known fact about you?
I briefly ran a cooking business where we hosted events in people's homes.
Who has made the biggest impact in your life and what does that impact look like?
It is hard to pick just one person, but I would say my first boss, John Potter. He hired me (with very little reason to do so) and gave me the space and support and responsibility to improve quickly.
What is your favorite book?
A Wizard of Earthsea by Ursula K. LeGuin
What is your favorite quote?
Moderation in all things, including moderation.
Tell us your favorite movie.
How would your friends and family describe you?
Probably as freakishly sane and boring.
How would you describe yourself?
A learner.
Can you share with us your happiest moment?
Every moment I get to be a dad – I know, cop out, but I'll stick with it!
What is the biggest life lesson you would like to share with others?
Relationships matter more than policy, knowledge, or expectations. Learning and teaching are about relationships, not information.
Is there anything else you would like to share or let others know?
As a guide, I see my role as being one that supports students in creating great learning experiences for themselves.
We cannot thank John enough for his contributions to our Huntsburg campus. He is an inspiration to his fellow staff and students, and it is an honor to have him as a member of our Hershey family.