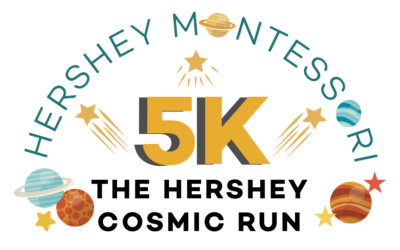 Join us for the inaugural Hershey Cosmic Run!  This is a 5K race with a 1-mile family fun walk/run at the beautiful wooded grounds of Observatory Park in the Geauga Park District.  The race will be held Saturday, November 3rd, 2018 at 9:00 am, rain or shine!
 This fun filled event is appropriate for all ages and abilities!
SAVE $5! COUPON AVAILABLE UNTIL SEPTEMBER 15, 2018 FOR EARLY REGISTRATION!  
ENTER COUPON CODE HMSFF5 WHEN CHECKING OUT TO SAVE $5 PER ENTRY!
Click HERE to Register, Sponsor or Donate to this event.
Not a runner or walker?  You can choose to support our exciting event by sponsoring the race at any of a variety of levels and/or donating goody bag items or prizes!  An excellent turnout is expected as friends and Hershey families typically share an interest in supporting health and well-being, nature, the arts, good nutrition, entrepreneurship, and environmentally sustainable practices and products. Plus sponsors will gain both philanthropic and social benefits, being provided the opportunity to market your business or personal support in front of like-minded attendees.
Proceeds from the race will benefit Hershey students' Financial Aid, Building Fund and Operations. The unique and highly successful pioneering model in education that Hershey provides is being replicated all over the world.
We hope you'll join us in making a difference for our students and for students all over the world who are benefiting from this state-of-the-art approach to education.